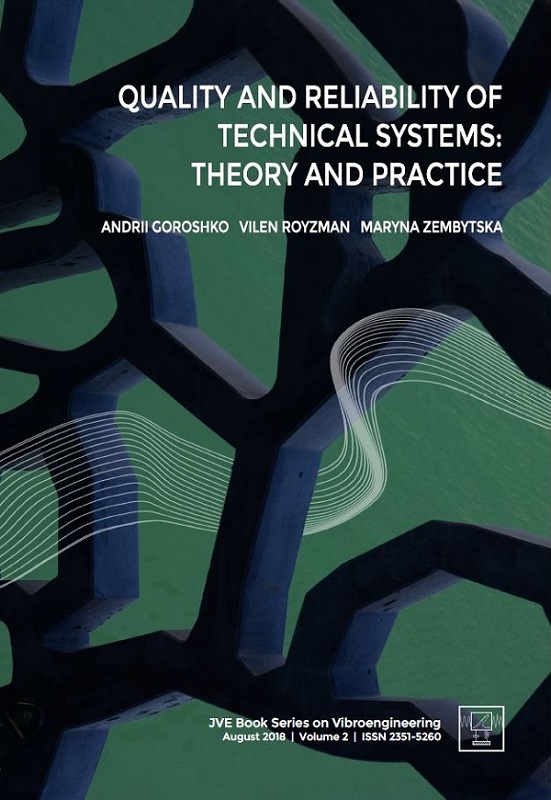 Quality and Reliability of Technical Systems: Theory and Practice
Andrii Goroshko, Vilen Royzman, Maryna Zembytska
Book Series on Vibroengineering, Volume 2, August 2018, p. 310, https://doi.org/10.21595/9786099603636
Hardcover ISBN: 978-609-96036-0-5
eBook ISBN: 978-609-96036-3-6
Language: English
Copyright © 2018 JVE International Ltd. This book is licensed under the terms of the
Creative Commons Attribution License
, which permits unrestricted use, distribution, and reproduction in any medium, provided the original work is properly cited.
About this book
The monograph provides original approaches to the quality and reliability improvement in mechanical engineering, taking into account the functionally oriented management. The outlined studies validate the methods facilitating the increased reliability and durability of rotor systems and vibration processes. Methods for increasing the reliability and wear resistance of machine parts and units under dynamic and shock loads are considered and proposed. The issues of creation of new materials in mechanical engineering, in particular, nanostructures are studied and investigated. New quality and reliability improving methods for electronic equipment and energy systems are offered. The research also considers the issues of reliability and durability of construction materials.
The monograph is intended for scientists, graduate students and professionals in the field. It may also be useful to students of technology.
Table of Contents
| | |
| --- | --- |
| Front Matter | |
| Chapter 1. New methods for improving quality and reliability in mechanical engineering | |
| Chapter 2. Dynamics of rotor systems and vibration processes | |
| Chapter 3. Increasing the strength of machines under static, cyclic and dynamic loads | |
| Chapter 4. Creation of new materials | |
| Chapter 5. Improving the quality and reliability of electronic equipment and power systems | |
| Chapter 6. Increasing the reliability and durability of building materials | |
| Back Matter | |