Erratum: Feature-based performance of SVM and KNN classifiers for diagnosis of rolling element bearing faults
Mohd Atif Jamil1
,
Md Asif Ali Khan
2
,
Sidra Khanam
3
1, 2, 3Department of Mechanical Engineering, Aligarh Muslim University, Aligarh, India
1Corresponding author
Vibroengineering PROCEDIA, Vol. 40, 2022, p. 139-139. https://doi.org/10.21595/vp.2021.22353
Received 22 December 2021; accepted 22 December 2021; published 23 December 2021
54th International Conference on Vibroengineering, Shanghai, China, February 5, 2022
Copyright © 2021 Mohd Atif Jamil, et al. This is an open access article distributed under the
Creative Commons Attribution License
, which permits unrestricted use, distribution, and reproduction in any medium, provided the original work is properly cited.
Table of Contents
Download PDF
Cite this article
The description of the correction
Fig. 2 demonstrated KNN algorithm incorrectly in the original article approved (after the acceptance) by the authors.
The incorrect figure:
Fig. 2. A demonstration of KNN algorithm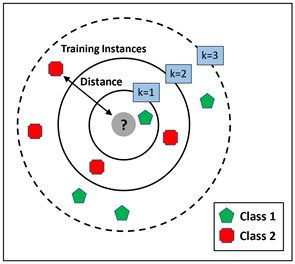 The revised figure is as follows:
Fig. 2. A demonstration of KNN algorithm