A fuzzy logic monitoring system (FLMS) based on visible light and EMF effects on experimental animals
Yassir S. K. Osman1
,
Elsayed I. Salim
2
1Engineering Department, University of Technology and applied Sciences, Shinas, Sultanate of Oman
1Univescity of Technology and Applied Sciences, Shinas, Sultanate of Oman
2Zoology Department, Faculty of Science, Tanta University, Tanta, Egypt
1Corresponding author
Journal of Mechatronics and Artificial Intelligence in Engineering, Vol. 2, Issue 1, 2021, p. 30-43. https://doi.org/10.21595/jmai.2021.21879
Received 18 January 2021; received in revised form 2 February 2021; accepted 11 February 2021; published 3 May 2021
Copyright © 2021 Yassir S. K. Osman, et al. This is an open access article distributed under the
Creative Commons Attribution License
, which permits unrestricted use, distribution, and reproduction in any medium, provided the original work is properly cited.
Table of Contents
Download PDF
References
Cite this article
Abstract.
Recently, there is a large concern focusing on the effects of electromagnetic radiation on human health hazards. So there has been a progress in medical data analysis using different systems such as artificial intelligent techniques. One of these is a Fuzzy logic technique. In this research a fuzzy logic-based monitoring system is used with interference effects on experimental animals. This system shown an ability to support the recent studies with great results and analysis. The performance of the fuzzy inference system was validated through a real data have been collected through an experiment. Therefore, the study designed to investigate the effect of sub-chronic exposure of electromagnetic field on experimental mice. In this experiment, the mice exposed to EMF (12 h/day) in a EMF exposure machine designed especially for exposure of biological.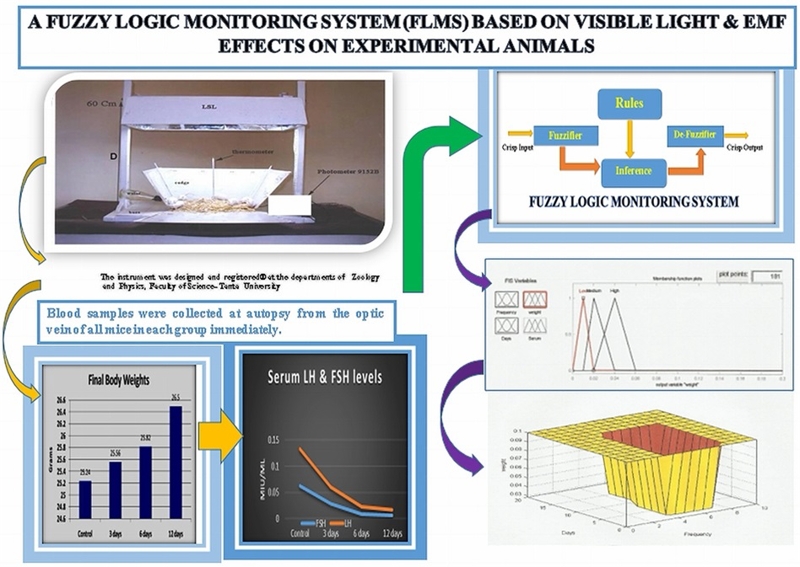 Keywords: fuzzy logic rules, electromagnetic, visible light, radiation, mice.
1. Introduction
The effects of electro-magnetic interference on experimental animals using fuzzy logic monitoring system has been evaluated, the effect of two different electric-field and magnetic –filed on Mice. Effective doses similar to the level of human exposure to EMF has been posed. Mice groups were exposed to iso-thermal non-ionizing radiation, (Artificial visible light of intensity 77 mW/cm2 on the area of 72.5 cm2 and frequency of EM radiation between (1 GHz and 1.5 GHz [1-3].
Recently, extremely low frequency electromagnetic field (LF-EMF) especially at the visible light range (400-800 nm) have determine consequences on human health [1].
Also, epidemiological studies indicated that exposure to visible light may cause several health hazards particularly of fetus maturation and biological activities on the embryos [3, 4].
2. Maxwell
Maxwell's equations take the form of an electromagnetic wave in an area that is very far away from any charges or currents (free space) – that is, where and are zero. It can be shown, that, under these conditions, the electric and magnetic fields satisfy the electro-magnetic wave equation: The electromagnetic wave equation is a second-order partial differential equation that describes the propagation of electromagnetic waves through a medium or in a vacuum. The homogeneous form of the equation, written in terms of either the electric field or the magnetic field B, takes the form [2, 5]:
It should also be noted that in most older literature, () is called the magnetic flux density or Magnetic induction (Jordan).
Electromagnetic radiation can be classified into ionizing radiation and non-ionizing radiation [2, 17].
It is also known as radio frequency interference. It is a phenomenon where one electromagnetic field interferes with another resulting in the distortion of both fields. we can widely categorize electromagnetic-interference into two major groups as emissions and susceptibility [2].
Classification of Electromagnetic Interference. It is further classified as:
– CE-conducted emission.
– RE-radiated emission.
– CS-conducted susceptibility.
– RE-radiated susceptibility.
The CE and RE deals with undesirable emissions from a device as internal sources of noise. Similarly, CS and RS deals with a device as external sources of noise [2].
Fig. 1. Types of electromagnetic radiation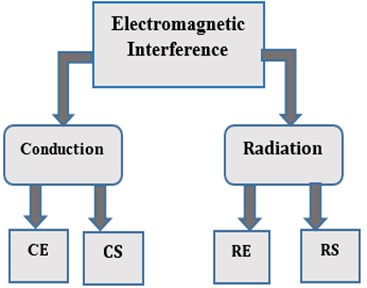 3. Materials and methodology
Experimental setup. The mice were exposed to isothermal non-ionizing EMF, represented by the man-made visible light (artificial visible light of intensity of 77 mW/cm2 on the area of 72.5 cm2 and frequency of EM radiation between 3.9×1014 Hz and 7.5×1014 Hz W/cm2) 8 hours per day for 3, 6 and 12 day [6-8, 10-15].
Fig. 2. Artificial visible light of intensity of 77 mW/cm2 on the area of 72.5 cm2 and frequency of EM radiation between 3.9×1014 Hz and 7.5×1014 Hz W/cm2) 8 hours per day for 3, 6 and 12 days
Instrumental procedure. The instrument was designed and registered® at the Departments of Zoology and Physics, Faculty of Science, Tanta University [10].
Animal groups:
– The mice were divided into 3 treated groups, plus one control group. Each group comprised 15 male mice [16-26].
– G1 15 Mice exposure 12 days (8 hours/day).
– G2 15 Mice exposure 6 days (8 hours/day).
– G3 15 Mice exposure 3 days (8 hours/day).
– G4 15 Mice (CONTROL) not exposed.
4. Analysis procedure
– All mice were sacrificed at the following day of the last exposure.
– Control mice were sacrificed at the same time.
– The animals were sacrificed, grossly examined for abnormalities, and organs, tissues and blood were collected and then prepared for histopathological and biochemical investigations.
Blood biochemistry:
– Blood samples were collected at autopsy from the optic vein of all mice in each group and immediately centrifuged at 3000 rpm for 15 min. Plasma was collected and preserved frozen at –20 °C before measurement of:
– Serum Total proteins, Albumin and Albumin/Globulin ratio levels.
– Serum testosterone levels.
– Serum follicular stimulating hormone (FSH) levels.
– Serum luteinizing hormone (LH) levels.
– Serum Gonadotropic releasing hormone (GnRH).
– Serum Growth hormone (GH).
– Serum aspartate aminotransferase (AST) activity.
– Serum alanine aminotransferase (ALT) activity.
5. Results
From Fig. 3 the difference was significant between testes weights of mice exposed for 12 days as compared to testes of control mice but was not significant between mice exposed to visible light for 3 or 6 days and the controls. The testes weights of all mice in the visible light exposed groups were gradually decreased as compared to the testes of control mice [21-39].
Fig. 3. Final body weights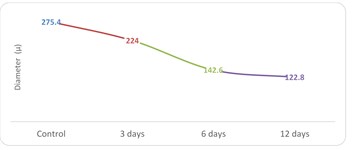 a) Mean diameter of Seminiferous tubules (µ)

b) Serum LH & FSH levels

c) Serum GnRH levels

d) Serum GH levels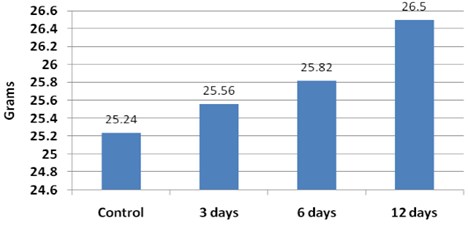 e) Final body weights
Table 1. Results of proteins and albumin
| | | | | |
| --- | --- | --- | --- | --- |
| Experimental group | Exposure interval | Total proteins levels (g/dl) | Albumin level (g/dl) | A/G ratio |
| 1 | 12 days | 7.94 ± 11.85 | 3.15 ± 2.33 | 1.75 ± 2.30 |
| 2 | 6 days | 7.42 ± 21.52 | 4.55 ± 11.3 | 1.91 ± 0.93 |
| 3 | 3 days | 7.84 ± 11.29 | 3.71 ± 12.5 | 2.00 ± 3.48 |
| 4 | Control | 8.00 ± 10.51 | 4.95 ± 8.45 | 1.99 ± 2.45 |
Fig. 4. Two photomicrographs showing general testis histology of a control mouse (A)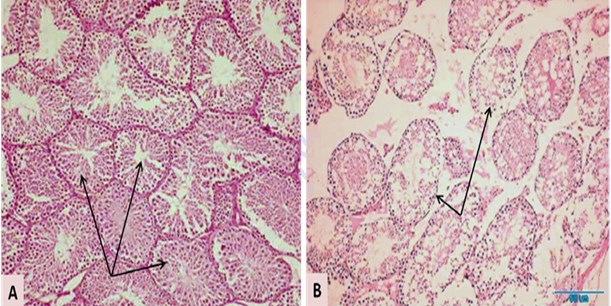 General histology of the testis of mouse exposed to visible light for 12 days. Note the intact seminiferous tubules in (A), and the degenerated seminiferous tubules in (B) (arrow). Hematoxylin and Eosin [40-52].
6. FLMS structure
Fuzzy inference system (FIS) is a processing operation of a given input data to a specific limited output ranges done by using fuzzy logic techniques. This process consist of membership functions, fuzzy logic operators, and rules. Fuzzy inference system have two types of implementation methods Mamdani-type and Sugeno-type. The two methods been applied in different areas such as automatic control, decision analysis and expert systems.
The fuzzy logic controller takes input values from the real world. These values are referred to as "Crisp" values since they are Represented as single number, not a fuzzy one. There are three parts to a fuzzy controller, the fuzzification of the inputs, the defuzzification of the outputs, and the rule-base. In order for the fuzzy controller to understand the inputs. The crisp input has to be converted to a fuzzy number. This process is called fuzzification Fig. 5.
Fig. 5. Fuzzy logic control block diagram

The next step in fuzzy control process is the implementation of the rule base. This is where the fuzzy inputs are compared and based on the membership of each. The final step is to convert the fuzzy outputs of rule-base to crisp ones.
This process is known as defuzzification. This process will take a fuzzy number and apply it to a membership function to achieve the crisp number that will be sent to the real world [53-58].
6.1. FLMS Structure Introduction
As mentioned previously the system based on artificial visible light of intensity (77 mW/cm2) and frequency range between (3.9×1014 Hz) up to (7.5×1014 Hz) and 8 hours per day for (3 days, 6 day and 12 days) as a system inputs.
The system output consist of two parameters:
1 – Testis weight in (grams).
2 – Level of Serum follicular stimulating hormone (FSH) levels in (ml).
6.2. Building the system using fuzzy logic toolbox
First step of the design was to open an Fuzzy Inference System (FIS) file from the Fuzzy toolbox in Matlab (Math work software), then input data applied to the system.
(Days, Frequency values) as inputs to the system.
The second step was to use the evalfis function for evaluation which indicate purpose fulfill fuzzy inference computing process:
Synopsis output =evalfis(input,fismat).
Fismat =fis matrix.
The description of this function is [Computes the output vector output of the fuzzy inference system] given by the FIS matrix fismat.
Because the system consist of two inputs and two outputs MAMDANI method selected, that because it is suitable for our system design [58].
Fig. 6. The fuzzy inference system (FIS)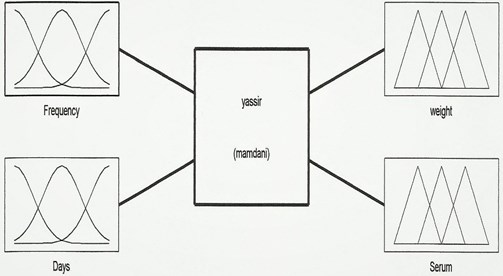 6.3. Input membership
The first input is frequency and the second input is days.
The range of the input variables lead to classify the values into three Linguistic variables:
– Band 1: 3.5-5.5×1014 Hz.
– Band 2: 5.5-6.5×1014 Hz.
– Band 3: 6.5-7.5×1014 Hz.
– So system response shown in Figs. 8, 9.
Fig. 7. Trained data evaluation
Fig. 8. Input frequency membership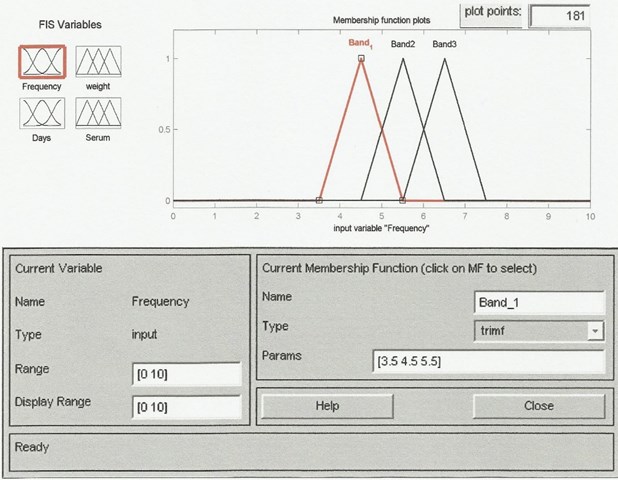 The second input is the days, has the membership (Fig. 9).
Fig. 9. The membership of input days of exposure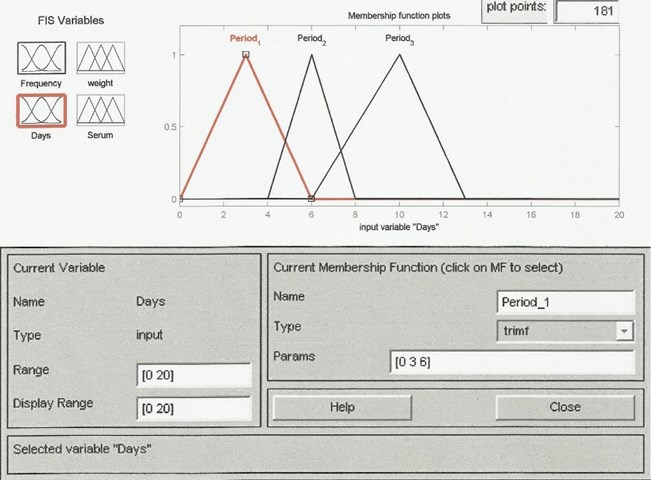 6.4. Output membership
The system have two outputs as mentioned before.
The first output is (Weight in grams), the second output is (Serum level in ml).
The Figs. 10, 11 shown the output membership.
Fig. 10. Weight membership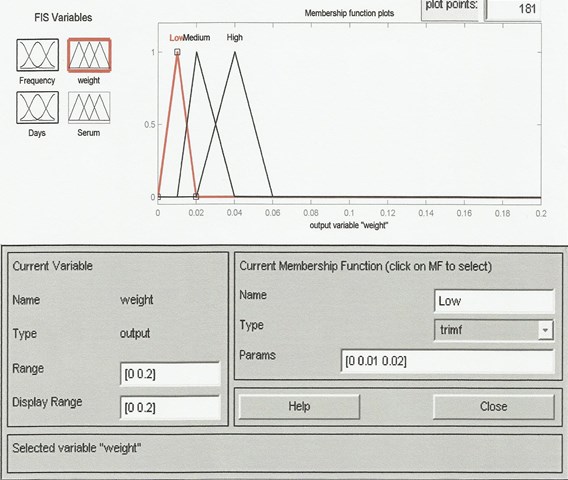 The second output membership is Serum level which is shown in Fig. 11.
Fig. 11. FSH serum level membership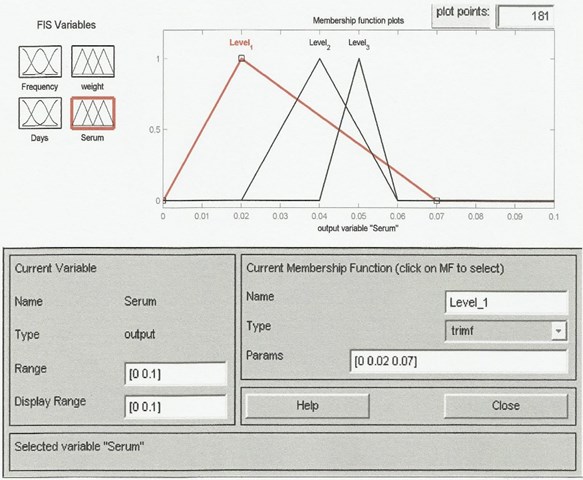 6.5. Rules editor
Fig. 12. Rules editor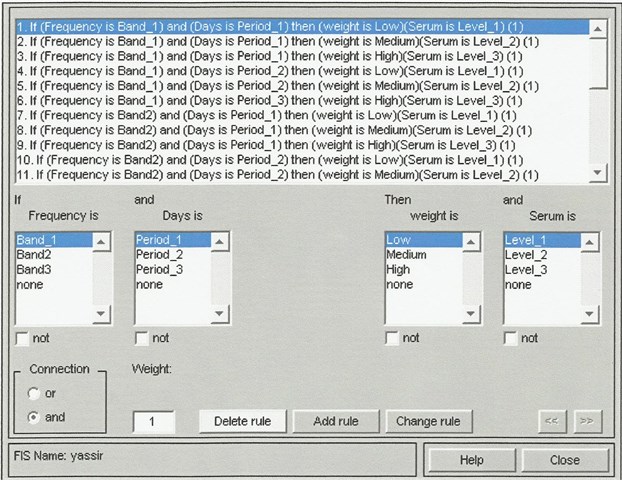 6.6. The rule viewer
The rule viewer is a cornerstone of the system it is also presenting the fuzzy inference process. It's based on the fuzzy inference diagram.
Every rule is a row of plots and each column is a variable. Then first column of plots shows the membership functions referenced by the previous one, or if-part, of each rule.
The second column of plots shows the membership every row of plots represents one rule. To display the rule just click it then it will appear in status bar. Status line shows the most recent operation.
Fig. 13. Rules viewer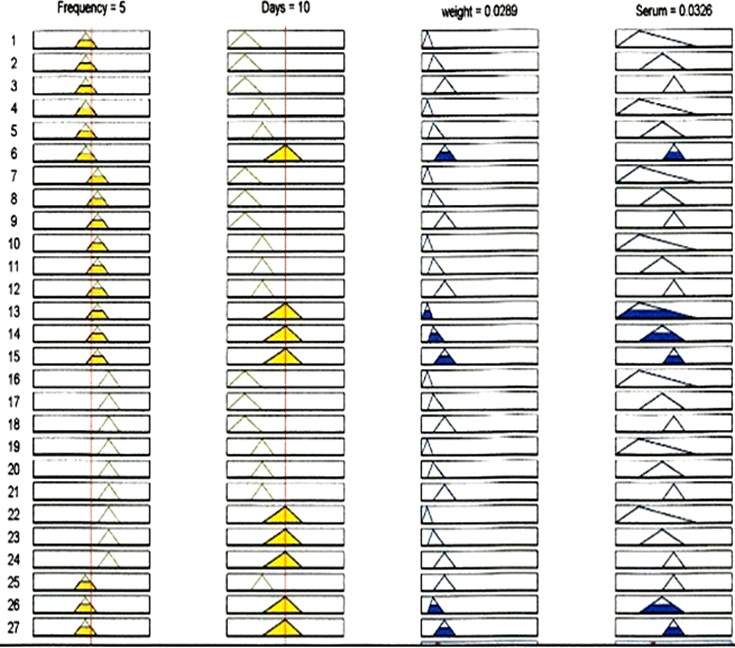 6.7. The surface viewer
The surface viewer is supported by snapmenu which help you to select any two inputs and any one output for plotting. Just below these menus are two input fields placed to let you specify how many -axis and -axis grid lines you want to include. Which help you to maintain the calculation time reasonable for complex problems.
By clicking the evaluate button the calculation start, and the plot comes up immediately after the calculation is completed.
Fig. 14. Fuzzification method of weight variable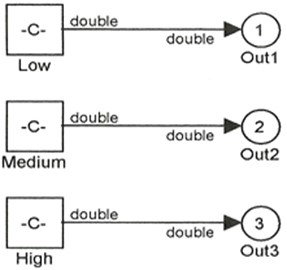 Fig. 15. Serum fuzzification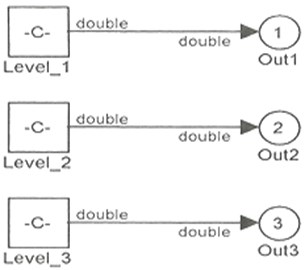 Fig. 16. System 3D control surface (weight)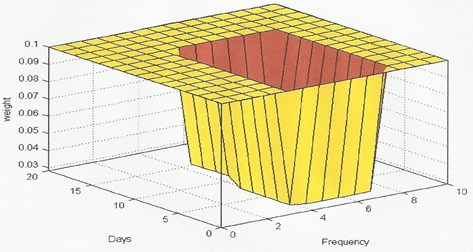 Fig. 17. System 3D control surface of FSH (serum)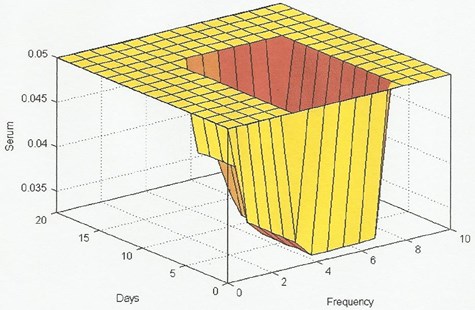 As you see there are so many peaks in the figure this is according to non linearity of the system. That because the system train data randomly.
Fig. 19 and Fig. 20 shows the relation between the input Frequency and output. There is a data concentration shown between (10-40) this is clearly appearing in Fig. 20.
Fig. 18. Input frequency and output weight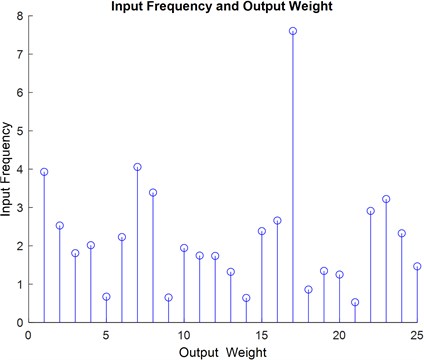 Fig. 19. Input frequency and serum level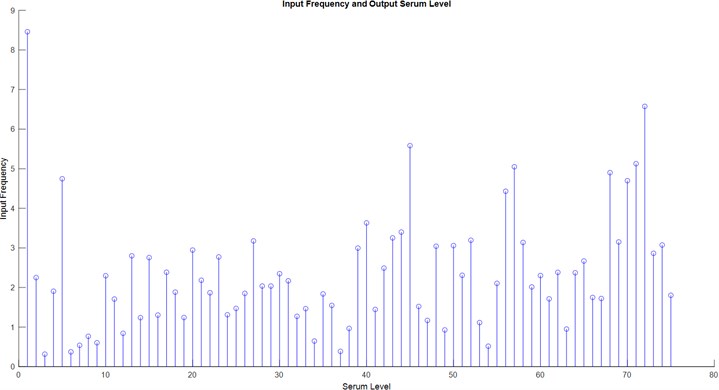 Fig. 20. System response of the training data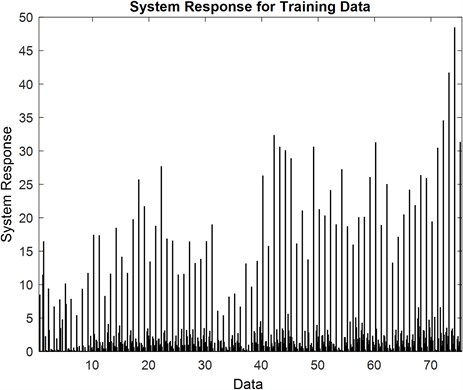 7. Conclusions
We assume that any radiation exposure, no matter how small, carries with it some risk. However, we know that on average these risks are comparable to or smaller than risks we encounter in other activities or occupations that we consider safe. Since we have extensive control over how much radiation exposure we receive on the job, we can control and minimize this risk. The best approach is to keep our dose as low as reasonably achievable. Minimizing the dose minimizes the risk.
Technically, application of fuzzy logic monitoring based system in Biomedical engineering branches is very useful for different purposes, such as safety purposes especially in laboratories and areas under risky radiation hazards.
The fuzzy logic monitoring based system contains the control rules directly derived from the observed process. The functioning of the fuzzy logic is transparent, and it was adjusted through experimentation. The results indicate that man-made visible light may affect the endocrine homeostasis of mice by exerting histopathological.
References
Cited By
Journal of Vibroengineering

Dongbing Yuan, Yue Zhang

2022