Effects of mechanical vibration on bone – a critical review
Orlando Santiago Júnior1
,
Rudolf Huebner
2
,
Maria Lucia Duarte
3
1, 2, 3Graduate Program in Mechanical Engineering, Universidade Federal de Minas Gerais, Belo Horizonte, Brazil
1Corresponding author
Jaw Functional Orthopedics and Craniofacial Growth, Vol. 2, Issue 3, 2022, p. 141-150. https://doi.org/10.21595/jfocg.2022.22865
Received 10 August 2022; received in revised form 23 September 2022; accepted 5 October 2022; published 28 November 2022
Copyright © 2022 Orlando Santiago Júnior, et al. This is an open access article distributed under the
Creative Commons Attribution License
, which permits unrestricted use, distribution, and reproduction in any medium, provided the original work is properly cited.
Table of Contents
Download PDF
Acknowledgements
References
Cite this article
Abstract.
The benefits of reduced treatment time and comfort for patients undergoing corrective dental treatment with devices gave rise to the creation and modification of long-standing treatment protocols. One of the protocols used for these purposes is mechanical vibration. Objective: This review aimed to study the effects of mechanical vibration on bone. Methods: Portal Capes (periodicos.capes.gov.br) database was searched using the keywords "vibration" and "bone" with no date limit. Based on the title and abstract, the first 50 relevant studies were retrieved. The measured frequencies were between 4 and 150 Hz. Regarding exposure time and the number of applications, the variation is so wide that the average or median would not represent a realistic sample pattern. Results: In the retrieved studies, 41 reported improvements in bone conditions. Research studies show that a reproducible protocol is being applied in most studies on the effects of mechanical vibration on bone tissue. Conclusion: There is stimulation of bone biology, regardless of species, in the sense of osteogenesis in individuals exposed to high frequency mechanical vibration. To improve research protocols on the effects of vibrations on the body, more studies are needed.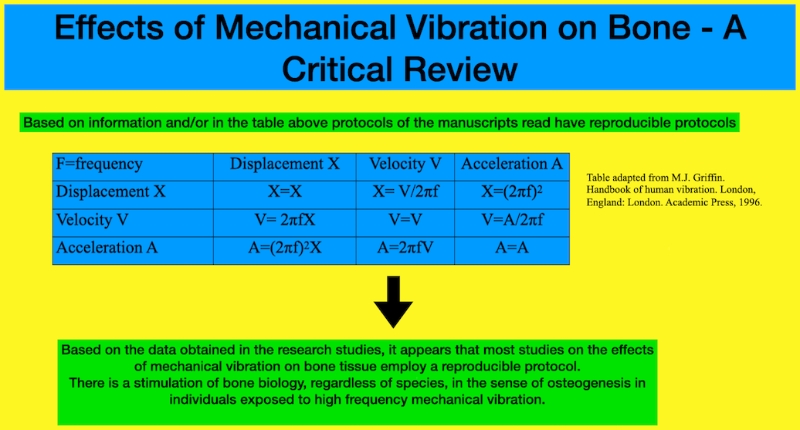 Highlights
Most studies on the effects of mechanical vibration on bone tissue employ a reproducible protocol.
There is a stimulation of bone biology, regardless of species, in the sense of osteogenesis in individuals exposed to high frequency mechanical vibration.
Based on the current review mechanical vibration seems to be an effective tool to help dentofacial correction treatment.
Keywords: mechanical vibration, bone, osteogenesis, review.
1. Introduction
Mechanical vibration occurs when a body leaves its resting state in a regular or irregular repetitive movement. It can be transmitted within bodies, including living organisms [1]. Vibration in the human body can have various effects depending mainly on amplitude, frequency, direction [1, 2], and the place where vibration enters the human body [1].
The most common deleterious effects are problems in the lumbar spine, loss of ability to see details quickly and smoothly, and the loss of the ability to have precise control and adjust this control. However, low frequency vibrations can improve vision [2]. Even vibration applied to the object may impair vision. Depending on the vibration, the individual sees the object moving back and forth, sees ghost images (overlay of images), or the image may disappear and reappear. The illumination, distance, and size of the object also influence visual change [2]. This variety of effects on living organisms can occur in the most diverse biological tasks and regulations [1]. Most recently, Lopes et al. [62], in a study to be published, have shown that vibration may improve readability.
Most studies address the unwanted effects of vibration on the body, but vibration sometimes cannot be avoided. It can be very pleasant like a child's lullaby, a rocking chair, or a hammock; or it can be a source of excitement like off-road vehicles, surfboards, skis, etc. In the area of health, it is used by physiotherapists to clean the lungs, to assist in hemodialysis, or it can be used for diagnosis. Moreover, it would have benefits for joints and bone tissue [1].
Both the benefits that vibration can bring to health, as well as deleterious effects, depend on a range of variables related to vibration, the organism receiving vibration, and the duration of exposure [1].
New treatment protocols are using mechanical vibration to accelerate and make tooth movement more comfortable for the patient [3,4]. There are some brands on the market like VPro, Vpro+, or VPro5® with high frequency vibration and the AcceleDent® with low frequency vibration.
This review aims to study what kind of effect mechanical vibration has on bone and if investigations have a reproducible protocol.
2. Mechanical vibration
All vibration is characterized by having a frequency usually measured in Hertz (Hz) that quantifies the number of cycles per second, or oscillations per second of a wave. To obtain a certain frequency, three variables are interrelated: displacement, velocity, and acceleration. Also, there is a time of vibration exposure, a magnitude that does not interfere with the above. However, it plays an instrumental role in the response of an organism subjected to vibration [1, 2].
Fig. 1. shows how variations in velocity, acceleration, and displacement amplitudes are related to frequency. For more detailed information it is recommended to read Griffin [1].
Fig. 1. Simple graphical representation of the intercom between frequency, velocity, displacement, and acceleration in vibration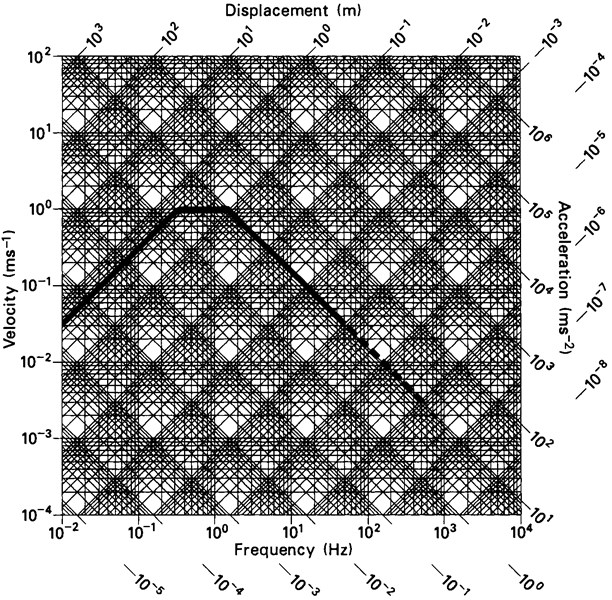 3. Bone biology
Before addressing bone biology, it is worth mentioning that there is a range of systemic conditions that when the individual is subjected to more intense vibrations can worsen, even resulting in death (Norma BS 7085, 1989) [5]. This can be seen, for example in amusement parks that prohibit people with certain conditions (pregnancy, heart valves, pacemaker, skeletal muscle changes, etc.) from entering the attractions with regular vibration or irregular (shock) vibration. Therefore, before subjecting an individual to any vibration a precise anamnesis needs to be performed to avoid unpleasant side effects.
Bone activity in the human body is of fundamental importance in maintaining homeostasis both in fracture consolidation and bone mass maintenance, as well as in remodeling processes mainly on flat bones [6]. This hormonal regulation has a dual purpose, which is both to maintain this mass and to control calcemia, mainly through parathyroid hormone and calcitonin [6]. However, in addition to this chemical control, functional demand plays a particularly important role in the process of maintenance/increase of bone mass.
Moss [7], reviewing his theory of functional matrix, postulates that electrical charges exist in bone tissue, many associated with bone fluids in the various spaces and intraosseous compartments. According to the author, the electrical effects in these fluids would not be piezoelectric, but electrokinetic, originating from ionic membrane channels. Studying the various types of deformation that a bone exposed to tension can suffer, addresses the function of ionic channels activated by distension. This is similar to the one given by the periosteum during muscle function [7].
When activated in tensile-submitted osteocytes, they allow the passage of a certain size of ions among them K+, Ca2+, Na+, and Cs+. This determines an ionic flow that will generate an intracellular electric field [7]. This electrical potential of + 2 mV deforms the bone, generating both osteogenesis and osteolysis at distinct bone sites that vary with the polarity of the field and its vector (Wolff's Law) [6].
Research has been conducted to study the consequences of the most diverse functional demands, including vibration, on bone tissue. Addressing more specifically the latter, the studies range from old age trying to avoid osteoporosis [8], as in children as a stimulus of growth and increase of bone mass as prevention of fractures [9], the influence on fracture consolidation to the osteointegration of bone implants [10]. However, as the quality of vibration significantly affects the organic response, much has yet to be known [1].
In children, mechanical loads can increase bone size and mass and these gains may persist until adulthood [11] and may improve bone health throughout life [12]. In adults, despite the need for more knowledge, the results have indicated that vibration can increase bone mass, preventing or enhancing quality of life in the osteoporotic process [8, 10].
Vibration affects more than bones, nerves, blood vessels, and cardiovascular function in living beings. Excessive vibration levels can be potential causes of tissue and/or psychological injuries in the living being. Vertical vibration in humans with a frequency between 0 and 63 hertz for 8 h is reported to be the most harmful [15]. However, certain levels of whole-body vibration (WBV) can decrease adipogenesis, reduce triglyceride levels in the liver and increase bone volume and bone formation, but despite these beneficial effects, vibrations at similar frequencies and accelerations can cause effects on the autonomous nervous system, among them, increased blood pressure and heartbeat [16]. It is clear then, like any tool, vibration must be used in specific and controlled situations. This is both in the emission of vibration and the organism that receives it. Its indiscriminate use can have very unpleasant consequences.
According to Griffin [1], the degree of WBV transmission to the body depends on the vibration transmissibility throughout the body and to the body, the dynamic interaction of the body with the points of contact with vibration, the effects caused at any location of this body and the emotions of the individual receiving the vibration. Moreover, the displacement, velocity, and acceleration of the waveform depend on frequency. The direction and duration of vibration exposure also significantly influence the body's response to the vibration stimulus.
Given the above, this study proposes to make a systematic literature review to verify whether the data presented in the works can be reproduced. This is because measurements represent a signature that can be compared with other similar sources [1]. That is, the methodology of the studies must be such that they can be repeated under the same conditions. It is intended to examine the effects of vibration on bone tissue.
4. Methods
Using the keywords "vibration" and "bone" in an advanced search with no date limit, a search was performed in the Portal Capes (periodicos.capes.gov.br) database. Based on the title and abstract, the first 50 studies were recovered that proved suitable [8-10, 15-61].
Criteria for inclusion were data about osseous tissue, no matter what bone was studied or if general body bone density was the subject of the article. Any animal species studied, including humans, were accepted. In the studies, vibration amplitudes (displacement, velocity, and acceleration) were examined, as were the duration of vibration application, as well as the effects of vibration on the osseous tissue.
During these studies, the reproducibility of the vibration, frequency, displacement, velocity, and/or acceleration amplitudes was investigated, based on Griffin's [1] report that frequency is not as useful if it is not accompanied by displacement, velocity, and/or acceleration amplitudes. It was then verified in the studies if there was explicit information about these data, or information that allowed one to deduce them as shown in Table 1. In addition to these data, the exposure duration of each session and the total duration of application, the animal species studied, and the results of the studies were researched.
Table 1. Conversions between displacement, velocity, and acceleration for sinusoidal movement in frequency . Adapted from Griffin [1]
| | | | |
| --- | --- | --- | --- |
| = frequency | Displacement | Velocity | Acceleration |
| Displacement | | | |
| Velocity | | | |
| Acceleration | | | |
5. Results
Of the retrieved studies, 45 were research articles and 5 were literature reviews. Of the literature reviews, 3 investigated humans [42, 52, 57] and 2 several species [8, 40]. Of the research articles, 3 studies were carried out in rabbits [17, 41, 47], 17 in rats [10, 19-21, 27-29, 31, 34, 46, 50, 55, 56, 59, 60] and 25 were performed in humans [9, 15, 16, 18, 23, 24, 30, 32, 33, 35-39, 43-45, 48, 49, 53, 54, 58, 61].
Regarding the frequency analyzed, in 4 review articles [8, 40, 42, 57] multiple frequencies were applied, while in one of them [52] frequencies below 25 Hz were applied. In the research studies, only three did not report the frequencies [9, 29, 39], but two of them reported the manufacturer and model of the stimulator used [29,39] and one only the trade name [9]. The frequencies studied ranged from 4 [47] to 150 Hz [10]. The most used frequency range was between 30 and 35 Hz observed in 22 studies [9, 16-19, 24-27, 30, 33, 35, 39, 44, 49, 55, 56, 58-61], followed by 45 Hz used in 7 articles [20, 32, 34, 44, 46, 50, 59], one of them [44] employed both frequencies.
There were no displacement amplitudes, accelerations, or velocity values in the review articles. It was not possible to deduce them from Table 1 due to the lack of frequency knowledge. In the research papers, it was found that:
1) Displacement range: 25 papers [15-18, 22, 24, 26, 30, 31, 35-37, 43, 44, 47-51, 53, 55, 56, 58, 61] provided direct data; 12 papers [10, 19, 21, 23, 27, 28, 34, 39, 54, 59, 60] provided data that made sense through the conversions in Table 1 and in 8 papers [9,25,29,33,38,41,45,46] it was not possible to obtain the data.
2) Acceleration amplitude are reported directly in 22 papers [10, 16, 17, 19-24, 27, 28, 30, 34, 36, 39, 50, 51, 54, 55, 59-61] while 15 papers [15, 18, 26, 31, 32, 35, 37, 43, 44, 47-49, 53, 58] provided data that made their knowledge possible through the conversions in Table 1. As well as the displacement amplitude, the acceleration was also not possible to be obtained in 8 studies [7, 25, 29, 33, 38, 41, 45, 46].
3) Velocity amplitude was not reported in any work. However, only in 8 of them [9, 25, 29, 33, 38, 41, 45, 46] is not possible to obtain such information using Table 1.
Only in 10 studies [16, 17, 22, 24, 30, 36, 50, 51, 54, 55, 61] reported explicit acceleration and displacement information. The other 27 offer only one type of information. By applying the conversions in Table 1, it is possible to obtain them. Therefore, in 37 studies, there is information regarding vibration based on the parameters of frequency, acceleration, velocity, and displacement for reproducibility.
Regarding the duration of dose application and the total duration of the study, the most diversified data vary from a single application [51] to 12 months applications [33, 49]. The variation is so wide that the media or median would not represent a realistic sample pattern. Only three studies [23, 41, 54] did not report the total duration of the vibration dose.
Regarding the effectiveness of vibration in the 5 review papers, only 1 of them [42] concluded that vibration was not beneficial to the bone. Nevertheless, this study reported improvement in the muscular part of individuals exposed to vibration. Of the research studies, 8 of them [32, 33, 37, 43, 46-48, 53] reported no improvement in bone condition, and the other 37 demonstrated improvements in bone tissue parameters.
6. Discussion
Due to the data sought in the studies regarding the vibration employed, only 10 brought forth all the data necessary to reproduce the results under the same conditions. However, using the vibration data conversion table (Table 1), 37 of the 45 studies analyzed (82.2 %) proved reproducible under the same conditions. Three out of 8 studies without vibration data [9, 29, 39] report the brand of equipment that was used, making them reproducible under the same conditions; this results in 88 % of the studies with sufficient information on vibration to be able to replicate it.
According to Zepetnek et al. [8], the protocol of investigations on the effect of vibration on bone is flawed in the following points: vibration direction, vibration amplitude, duration of exposure, frequency of intervention, duration of the study, type of platform, health status, demographic study of participants and movements made during exposure to vibration, body posture. According to the authors, perhaps due to the alert of 2009, only 12 % of the common data collected in this study failed to provide the necessary information. This is understandable, but not alarming from their perspective.
Regarding exposure time, only 3 articles (6.6 %) reported it, which means an even lower rate. Apparently, after 2009, research protocols seem to be more meticulous. And the wide variety of data found in the exposure time and duration of exposure is due to the search for an optimal exposure time.
Most of studies used frequencies between 20 and 90 Hz. The most used frequencies are between 30 and 35 Hz. Perhaps that is due to the ease of finding stimulators in this vibrational range on the market. Frequencies between 4 and 150 HZ were found, a very broad spectrum and some studies were dedicated to studying the effects of frequency variations [10, 15, 17, 23, 26, 27, 29, 35, 37, 41, 44, 48, 49, 54, 55, 59]. That follows the same pattern of exposure time, where the literature seeks an optimal frequency for the vibration applied to improve bone tissue.
Regarding the results of the review papers three [40, 52, 55] describe the effectiveness of vibration in the improvement of bone condition. One of the studies [8] reported effectiveness levels of 95 %. However, because of the designs of the study, caution should be exercised about the bias that may occur. One of them [42] reports not having seen bone tissue improvements but reporting improvement in muscle tissue.
Although several parameters were used for comparison, 82.2 % of the studies reported improvements in the skeleton. One of the studies [29] reports improvement in markers that demonstrate osteogenesis. Despite that, since the rat's bone marrow is sectioned and the musculature does not respond to central stimuli, it did not demonstrate improvement in bone.
Two basic patterns were observed in the studies that did not report improvements in bone tissue when the individual is submitted to WBV. In the first instance, there is a compromised muscle contraction due to injury to the nervous system [33], botulinum toxin [46], or immobilization [53]. The second is frequency. The only work that resulted in damage to bone tissue was with the application of WBV at 4 Hz [47] and another study without reporting effectiveness used a frequency of 20 Hz [43]. Another interesting observation [37] was the statistical equality between the group with physical activity and the group subjected to vibration. Even so, both groups demonstrated statistical differences from the control group, with the group exposed to vibration presenting fewer falls. In the other two studies that reported no alterations in bone tissue, frequencies of 45 Hz were used in one of them [32], and 40 to 60 Hz in another [48], where no characteristic was found that could justify the different response within the studies.
These data led us to create a hypothesis: vibration would have a more significant effect on bone tissue in individuals that maintain muscle contraction capacity. The hypothesis must, however, be scientifically tested if it has not already been done, and the work has not been found.
7. Conclusions
Based on the data obtained in the research studies, it appears that most studies on the effects of mechanical vibration on bone tissue employ a reproducible protocol.
There is a stimulation of bone biology, regardless of species, in the sense of osteogenesis in individuals exposed to high frequency mechanical vibration.
Further studies are needed for further improvement of research protocols and the influence of high frequency vibration on the body.
Acknowledgements
The authors have not disclosed any funding.
References