The List of Principal Topics:
▸ General issues in robotics
▸ Path planning
▸ Sensing and sensor fusion
▸ Robot application issues - equipment, computer vision, machine learning
▸ Robot integration into the greater system
▸ Common robot operation-lines
▸ Flocks and arrays
▸ Robot-human interaction
▸ Mathematical methods in robotics
▸ Microrobotics
▸ Robots in biomechanics
▸ Military and rescue robotics
Robotic Systems and Applications (RSA) ISSN (Online) 2669-2473 publishes high-quality articles concerned with fundamental and applied aspects in robotics. The Journal's scope encompasses original contributions based on analytical, computational, and experimental methods.
Established in 2021 and published 2 times a year (semiannually).
Editors
Editorial Board
| | | | |
| --- | --- | --- | --- |
| | Duarte Alves | | Instituto Politécnico de Viana do Castelo, Portugal |
| | Andrius Dzedzickis | | Vilnius Gediminas technical university, Lithuania |
| | Modris Greitans | | Institute of Electronics and Computer Science, Latvia |
| | Adam Idźkowski | | Bialystok University of Technology, Poland |
| | Po Ting Lin | | National Taiwan University of Science and Technology, Taiwan |
| | Andrzej Milecki | | Poznan University of Technology, Poland |
| | Peter Mitrouchev | | UGA University Grenoble Alpes, France |
| | Inga Morkvėnaitė-Vilkončienė | | Vilnius Gediminas Technical University, Lithuania |
| | José Carlos Quadrado | | Politécnico do Porto, Portugal |
| | Sebastian Schlund | | Vienna University of Technology, Austria |
| | Roman Szewczyk | | Warsaw University of Technology, Poland |
| | Franz Wotawa | | Graz University of Technology, Austria |
Author guidelines and publishing charges
Submission
Your manuscript should be submitted online via JVE Journal Management System (JMS) https://manage.extrica.com.
Using the JMS requires an account. You can create a new account by following the 'Create an account' link that appears on the main login page. The signup process only takes a minute – we don't need many details from you. Once you've created your account or signed in, you're ready to submit a manuscript: Submit manuscript.
Your manuscript should be uploaded in Microsoft Word and Adobe PDF formats. Note that if your manuscript is accepted for publication, the manuscript will be reprocessed by JVE team. But to start with, manuscript format should conform the Paper Template.
Article processing charges
There are no article processing charge (APC) and no publication charge for Authors.
Publication ethics and malpractice
The ethics statements for our journals are based on Code of Conduct and Best-Practice Guidelines for Journal Editors.
Intellectual property rights
Robotic Systems and Applications is published Open Access. By 'open access' we mean its free availability on the public internet, permitting any users to read, download, copy, distribute, print, search, or link to the full texts of these articles, crawl them for indexing, pass them as data to software, or use for commercial purposes, or any other lawful purpose, without financial, legal, or technical barriers other than those inseparable from gaining access to the internet itself. Authors retain the copyright and full publishing rights without restrictions. Article(s) are published under the Creative Commons Attribution License (CC-BY).
Editor's Pick
Vaibhav Ahluwalia, Janis Arents, Aly Oraby, Modris Greitans
Robots require a certain set of skills to perceive and analyse the environment and act accordingly. For tracked mobile robots getting good odometry data from sensory information is a challenging key prerequisite to perform in an unstructured dynamic environment, thus an essential issue in the tracked mobile robotics domain. In this article, we construct a ROS-based tracked mobile robot system taking the Jaguar V4 mobile robot as the base platform. On which several visual odometry solutions based
Robotic Systems and Applications, Vol. 2, Issue 1, 2022, p. 15-28.
https://doi.org/10.21595/rsa.2022.22336
Adam Idzkowski, Zygmunt Warsza
The evaluation of results in the case of indirect multi-parameter measurements is presented. A theoretical basis for determining the estimates of values, the uncertainties and the correlation coefficients of indirectly obtained multi-measurand is explained in detail. The example of a difference and an average of two-temperature indirect measurement is given with the use of two RTDs. Such sensors are used in the laboratory and industrial temperature control systems. The uncertainty of measurement
Robotic Systems and Applications, Vol. 1, Issue 2, 2021, p. 53-58.
https://doi.org/10.21595/rsa.2021.22143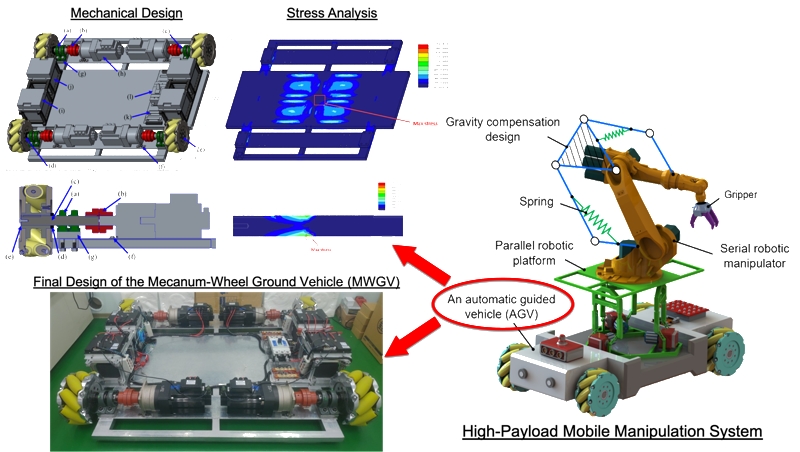 Zi-Yin Chen, Pei-Ren Liaw, Vu Linh Nguyen, Po Ting Lin
With the rapid developments of Industry 4.0 and Smart Manufacturing, customized manufacturing has been becoming greatly needed. Meanwhile, the challenge of production automation has become more bigger, especially for the automation of moving, picking, placing and manipulating objects. Many researchers have begun to work on Autonomous Ground Vehicles (AGVs). Most AGVs were utilized to carry middle or small objects, as the high-payload AGVs were rarely developed. This paper focused on the design o
Robotic Systems and Applications, Vol. 1, Issue 1, 2021, p. 24-34.
https://doi.org/10.21595/rsa.2021.22133